E-Cig for use with Cartomizer Cartridge: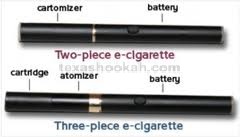 E-Cig / E-Hookah for use with E-Liquid: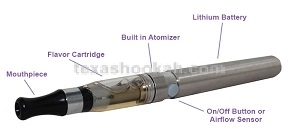 E-Cig / E-Hookah Parts: (varies depending on model)
Flavor Tank / Clearomizer / CE4 - Used for filling up with various e-liquid flavors
E-Liquid - many different flavors in different strengths
Battery - Comes in 650mah, 900mah, 1100mah, Voltage Variable
Cartomizer Cartridge - Comes in different nicotine levels for use with E-Cig Kits.
Setup Instructions:
1. Charge the battery via USB charger. Make sure battery is fully charged.
2. For E-Liquid models only: Unscrew mouthtip and fill E-Liquid into the tank / clearomizer. Make sure not get any liquid into the middle hole of the tank.
3. Screw tank / clearomizer / atomizer / cartomizer onto fully charged battery.
4. Press button on battery and inhale. Some models may not have a button to press and you just need to inhale to activate.
9. After you have completed all of these steps you should be on your way to a pleasant smoke session.
If you are having trouble with any of these steps or the whole process in general, please feel free to contact us and we will assist to the best of our abilities.